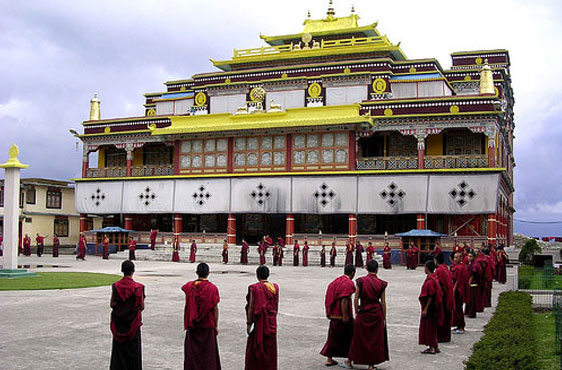 Overview
For two and a half millennia, India has been a magnet for pilgrims from all Buddhist cultures. It was here under the Bodhi tree that the prince-ascetic Gautam became the fully enlightened Buddha.
Red robed lamas enchanting sacred mantras, drums and trumpets blowing wildly in the background, prayer wheels whirring vibrantly and white lights flickering from decorative lamps is a not only a ritualistic presentation but is also a true picture of a rich cultural heritage and religious lifestyle of the people of Sikkim and North of West Bengal, which is closely interwoven with the monastery culture. There are innumerable monasteries or Gompas in this region. Guru Padmasambhava is the presiding deity at all the monasteries. Constructed monasteries reflect the architectural styles of Thailand, Burma, Sri Lanka, Japan, China, Bhutan, and Tibet.
Adorned with life-like frescoes of hoary Buddhist legends, these Gompas and monasteries offer a unique opportunity of being one with the nature to people. A rare closeness to the Providence is felt here. These monasteries also serve as a store house of ancient Tibetan manuscripts, exquisitely carved wood work and icons of silver and gold.
Students engage rigorously in a comparative approach to both the theory and practice of Buddhist Studies, culminating in independent research project. Participants on this program reach their own understanding of the essence that is common to all varieties of Buddhism while learning to appreciate the many cultural and historical environments in which it has flourished.
Description
This unique study abroad program examines art history and Buddhism along the road that runs across northern India on the Tibetan Plateau.

This course surveys a broad spectrum of topics related to the Himalayan region in north east India. To study the art and architecture of the region, students also examine political, social, and religious issues of historical and modern import. The seminar includes traditional lectures and classroom time, as well as cultural experiences, expert presentations, self-directed investigations, and independent research.
Learning is conducted in classrooms, monasteries, temples, mountainsides, and meadows.
During the program period in the Himalayan valley, students participate in the daily life of a Buddhist monastery; become immersed in Buddhist culture, tradition and philosophy.
Learning is also conducted at Jaipur, where the program begins and concludes.
Duration
1 to 2 months – Customizable
The program is run during the summer.
Location/Destinations covered
Delhi – Amritsar- Mclordganj- Dharamshala – Darjeeling – Gantok - Kalimpong.
Note for prospective students
This program includes extensive time on the road, particularly in the first several weeks. En route to important historical and artistic sites, the group travels over roads that are long, bumpy, and dusty. The group must cross rivers in jeeps, wait for landslide clearances, or make detours. The altitude is high, the food choices are limited, and the group camps for several periods. There is also no Internet or cell phone coverage, and satellite phones are jammed. While travelling between program sites, students have lectures, Hindi classes, and complete readings for lectures. The travel is challenging and rewarding! Stamina, patience, and good sportsmanship are recommended.
Academic highlights / Highlighted Topics
Examine Vajrayana Buddhist culture, which nourished a rich, visual tradition in sculpture, painting, and architecture. Consider the ancient civilizations that thrived in the Himalayas.
Travel through the valleys on the Tibetan Plateau.
Witness the stunning natural landscape and unusual wildlife of the western Himalayan area.
Discover the symbolism and cultural and religious significance of ancient Indian art nestled in this region.
Learn introductory Hindi.
For lucky ones a chance to meet the great DALAI LAMA
Course panellist
During the program period in the Himalayan valley, students learn from distinguished Professors of the Central Institute of Buddhist Studies of Choglamsar, one of the preeminent centres for Tibetan Buddhist studies in India.

Enhance your experience
Course extension on individual basis is available for this program. One can complete an independent research project - often involving travel - designed around your specific interests.
Pre-requisite Subjects
Religious Studies
Asian Studies
Art Education
Architecture
Art History
Architectural Studies
Liberal Arts/Humanities
Religion
Philosophy

Excursions
Experience many of India's most remote and beautiful mountainous areas long considered sacred by both Hindus and Buddhists. These areas are considered to be within the Tibetan cultural sphere. However, unlike Tibet itself, they are still culturally vibrant and relatively unspoiled by modern tourism or the imposition of foreign social norms. Many ancient Vajrayana Buddhist monasteries in the region provide awe-inspiring examples of the intricate religious systems of Eastern Himalayan Buddhism and its rich artistic institutions.
Witness the stunning natural landscape and unusual wildlife of the eastern Himalayan area.
Darjeeling : The city boasts of an interesting cultural and religious diversity. People of several religions and cultures live here in peace and harmony. After Hinduism, Buddhism is the religion most popularly followed here. The architecture, culture, cuisines, costumes of Darjeeling reflects Buddhist influence to quite an extent. Darjeeling has a long association with this religion and this is evident in the large number of Buddhist monasteries established there. A trip to Darjeeling is incomplete without a visit to these monasteries. Let us explore more on the popular Buddhist monasteries in the Darjeeling city of West Bengal.
Kalimpong : On a ridge overlooking the Teesta River, is a tourist destination owing to its temperate climate and proximity to popular tourist locations in the region. The Buddhist monastery Zang Dhok Palri Phodang holds a number of rare Tibetan Buddhist scriptures. Gaden Tharpa Choling Monastery is a Gelugpa monastery situated at the hilltop in Kalimpong, West Bengal.
Gantok : Wreathed in clouds, nestled within higher peaks of the Himalaya and enjoying a year-round mild temperate climate, Gangtok is at the centre of Sikkim's tourism industry. With a spectacular view, the town provides the perfect base for travel through the state. The place rose to prominence as a popular Buddhist pilgrimage site after the construction of the Enchey Monastery in 1840.
Sightseeing of New Delhi : The capital city of India and locally called Dilli is the main arrival point for overseas tourists. A day tour takes you to Red Fort, Jama Masjid, Humayun's Tomb and Qutub Minar. More imporant places like Lotus Temple and Akshardham Temple can also be added along with a shopping trip to make your Delhi tour complete.
Housing
Accommodation in pre checked and approved guest houses, home stays and 4 star hotels.
Students must show proof of medical coverage while overseas.