Folk Arts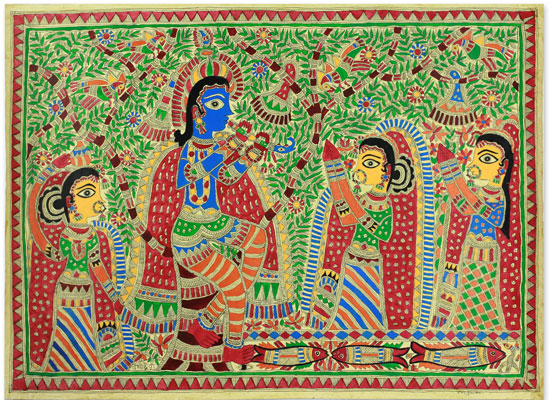 Overview
Folk art is an integral part of everyone's life in India. This tour is for those who have interest in Art and crafts and what better place in the world to learn them, other than India. During this trip you will learn more about the traditional ways of weaving cloth, colouring the cloth by using block printing, Tie and Dye and Batik techniques. There are different types of tribal & folk paintings all over India and each of the styles are different from the others. Some of the basic paintings India are warli, batik, madhubani, miniature and many others. Paintings of India have adopted various techniques and styles on their journey into the world of the arts. Cave paintings are valuable visual documents of history. It will also show you different arts like blue pottery manufacturing or carving on wood to make handicrafts big/small in size. As an add-on, we also organize a learning Indian dance component in thistrip. You are also introduced to various folk dance and music reflecting the cultural heritage of India.
Duration
18 nights and 19 Days- Customizable
Location/Destinations covered
Delhi – Agra – Jaipur – Kishangarh - Jodhpur

Academic highlights/Highlighted Topics
Blue Pottery
Block printing of Jaipur
Tie and Dye
Batik
Wood carving
Weaving of carpets
Katahk dance forms
Folk dance and music
Fine art of painting

Course panelist
Dr. Dashrath Singh is an eminent artist and has done his Ph.D in Painting arts of India. He has worked with late Mr. Sugan Singh of Jaipur, who got the title of Padamshree from the government of India for his work in blue pottery,
Enhance your experience
Course extension on individual basis are available for this program..
Excursions
What a country INDIA is! Its palaces, vibrant museums, mountains, wild life, deserts, restaurants, etc - it is a country that wears its cultural sophistication on its sleeve. We have an experience of introducing international students to the best of INDIA.
By letting our experts handle all the logistics, you can be sure that you'll have the time and confidence to take advantage of all its pleasures!
Sightseeing of the Pink City – Jaipur : Jaipur, the City of Victory, a land of natural beauty and great history is chaotic and congested, but still has a habit of tickling travellers pink. Stunning hilltop forts, glorious palaces and brilliant bargain-filled bazaars, are the favourite spots for tourists. Many old and neglected palaces and forts in Jaipur have been converted into heritage hotels.
Day trip to Ranthambore National Park : Being considered as one of the famous and former hunting grounds of the Maharajas of Jaipur, today the Ranthambore National Park terrain is major wildlife tourist attraction spot that has pulled the attention of many wildlife photographers and lovers in this destination.
Sightseeing of New Delhi : The capital city of India and locally called Dilli is the main arrival point for overseas tourists. A day tour takes you to Red Fort, Jama Masjid, Humayun's Tomb and Qutub Minar. More imporant places like Lotus Temple and Akshardham Temple can also be added along with a shopping trip to make your Delhi tour complete.
Visit to TAJ MAHAL : It is the epitome of Mughal art and regarded as one of the wonders of the world. An "elegy in marble" or some say an expression of a "dream" , Taj Mahal (meaning Crown Palace) is a Mausoleum of queen Mumtaz Mahal. It was built by her husband Shah Jahan, a Mughal emperor of India. . The stunning architectural beauty is beyond adequate description, particularly at dawn and sunset.
Kishangarh : The town is in the Native Indian condition of Rajasthan. It is the homeland of the Kishangarh design of artwork, which is known for the wonderful interpretation of a courtesan known as Bani Thani. Nowadays, Kishangarh has come to be known as the stone town of Indian.
Jodhpur : Call it by its many names and they will not do Jodhpur justice. An oasis in the arid Thar Desert, Jodhpur is the second largest city in the state of Rajasthan. Representing this colorful city with shades of blue, Jodhpur has a history that is rich and a present that beckons strongly to the discerning tourist. Forts and palaces, temples and havelis, culture and tradition, spices and fabrics, colour and texture, Jodhpur has them all and in plenty. It not only offers tangibles, in terms of what you can see and buy but also fills one with a sense of history and the splendours of an era gone forever.
OTHER PROGRAMS