Business Management
Program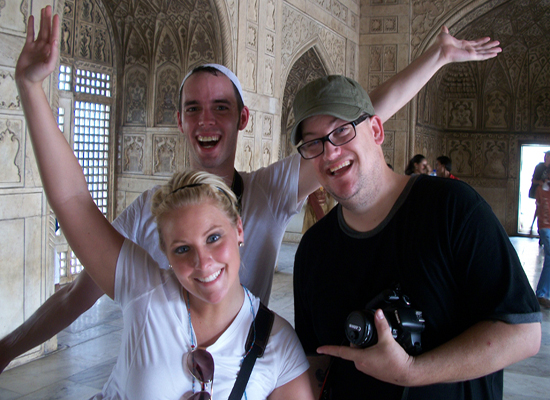 Overview
If you're an MBA student, there's no better way to broaden your horizons as you immerse yourself in the fast-paced business culture of this developing country INDIA. The tour is planned for students who are pursuing MBA or masters in Business or for those who want to get into Indian markets for developing a business or trade relation. India is one of the leading upcoming world economies. Companies across the globe are lining up to grow their businesses in India to leverage this high growth region.
SAPI BMP is specially designed to help students understand the Indian markets, consumer buying patterns and regulatory requirements. This is most useful for business students and professionals of multinational companies to understand holistic bussiness in India.
As the business world grows even more international, a global outlook has become less a luxury than a critical tool for professional success. And SAPI Tours and Business Studies Program have made it easier and more fun! than ever before.
Description
With SAPI, you'll learn from practical assignments that incorporate excursions, news articles, lectures and a large variety of material, appropriate for all levels and interests. You will be assigned an escort, who is dedicated to guiding and motivating you through a completely personalized, one-to-one program, which makes learning fun, practical and effective.
Duration
4 – 5 week Customizable
Location/Destinations covered
Delhi - Jaipur – Ahemdabad – Mumbai - Bangalore.
Academic highlights/Highlighted Topics
Lectures by Professor from top business schools in India.
Subjects covered are on International Trade, Finance, Marketing, and Human Resources.
Industrial visits with Internship programs are part of course.
Talk by eminent industry expert or a famous businessman on India and its growth and how companies can benefit by having sales or sourcing from India
As part of your tour, you will receive basic language sessions for your use prior to your arrival on-site!
Course panelist
Dr. Ajay Patwa is a Professor in one of the India's most premium MBA educational institutes. He has over 30 years of teaching experience in management in India and has written many popular books in the same field.
Enhance your experience
Course extension on individual basis are available for this program.
Excursions
What a country INDIA is! Its palaces, vibrant museums, mountains, wild life, deserts, restaurants, etc - it is a country that wears its cultural sophistication on its sleeve. We have an experience of introducing international students to the best of INDIA.
By letting our experts handle all the logistics, you can be sure that you'll have the time and confidence to take advantage of all its pleasures!
Sightseeing of the Pink City – Jaipur : Jaipur, the City of Victory, a land of natural beauty and great history is chaotic and congested, but still has a habit of tickling travellers pink. Stunning hilltop forts, glorious palaces and brilliant bargain-filled bazaars, are the favourite spots for tourists. Many old and neglected palaces and forts in Jaipur have been converted into heritage hotels.
Day trip to Gir National Park : Gir - the largest compact tract of dry deciduous forests in the semi-arid western part of India, is one of India's oldest sanctuaries, and is synonymous with the majestic Asiatic lion. It is the last abode of the big and regal predator Asiatic lions, an endangered species.
Sightseeing of New Delhi : The capital city of India and locally called Dilli is the main arrival point for overseas tourists. A day tour takes you to Red Fort, Jama Masjid, Humayun's Tomb and Qutub Minar. More imporant places like Lotus Temple and Akshardham Temple can also be added along with a shopping trip to make your Delhi tour complete.
Visit to TAJ MAHAL : It is the epitome of Mughal art and regarded as one of the wonders of the world. An "elegy in marble" or some say an expression of a "dream" , Taj Mahal (meaning Crown Palace) is a Mausoleum of queen Mumtaz Mahal. It was built by her husband Shah Jahan, a Mughal emperor of India. . The stunning architectural beauty is beyond adequate description, particularly at dawn and sunset.
Housing
Accommodation in pre checked and approved guest houses, home stays and 4 star hotels.
Students must show proof of medical coverage while overseas.