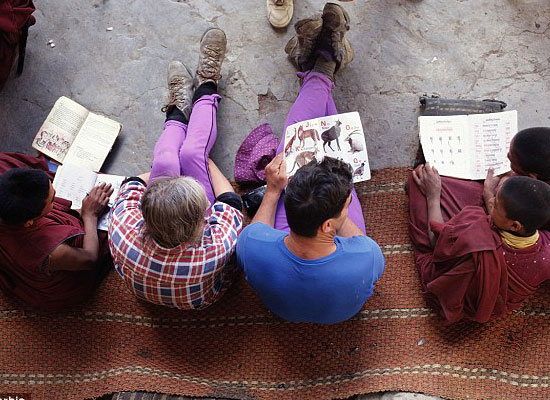 Overview
No matter how much or how little you know, go for this HINDI program, if you wish to learnit and India, the world's largest democracy, home to many languages, with Hindi as a national language, is the best place to do so.
The program is based in the city of Jaipur, the capital of the north Indian fabled state of Rajasthan and home to 3.5 million people.
This is a stay put program with major focus on class room teaching and staying with an Indian host family to practice the language on daily basis. We have multiple batches running in different stages like beginners, moderate and advance levels.With the one-on-one classes the students have about once a week, from instructors, they get a personal attention.
Make record progress in the language and intercultural communication, while living with, and like, an Indian.
Proficiency in Hindi will open up more avenues for you to stay longer in India for work or pleasure.
Description
A program designed for undergraduate, graduate, teachers of Hindi. Courses for beginners and Intermediate, conversation, composition, linguistics, culture, literature,
Taught in Hindi language by local university faculty, courses are supplemented by guided experiential learning activities: community service, language partner, individual homestay placement.
Program Highlights
An all HIndi environment
On-going training in cross-cultural communication
Optional courses in Indian cuisine and Indian Vocal and dance

Duration
1 month/2 month/3 month/6 month and year long programs are available Customizable
Location/Destinations covered
Delhi - Agra –Pushkar -Jaipur.
Course panellist
Dr. Reema Hooja is a Ph.D holder in Hindi and has been teaching Hindi to American students in Jaipur from many years. She has both knowledge and art of teaching as she has worked with many American and other nationality students before.
Enhance your experience
Course extension on individual basis are available for this program.
If you want to pursue some special opportunity outside of regular Hindi classes (like volunteering in the community, music and dance classes, Indian Cuisine, etc) we will help you out.
Relevant Major(s):
Foreign Language
Business
Women's Studies
Sociology
International Relations

Excursions
What a country INDIA is! Its palaces, vibrant museums, mountains, wild life, deserts, restaurants, etc - it is a country that wears its cultural sophistication on its sleeve. We have an experience of introducing international students to the best of INDIA.
By letting our experts handle all the logistics, you can be sure that you'll have the time and confidence to take advantage of all its pleasures!
Sightseeing of the Pink City – Jaipur : Jaipur, the City of Victory, a land of natural beauty and great history is chaotic and congested, but still has a habit of tickling travellers pink. Stunning hilltop forts, glorious palaces and brilliant bargain-filled bazaars, are the favourite spots for tourists. Many old and neglected palaces and forts in Jaipur have been converted into heritage hotels.
Day trip to Pushkar :  A sacred town for the Hindus, boasting of the one and only temple dedicated to Brahma. It is a sleepy; lakeside settlement with Ghats, a dip in whose waters and worship in temple ensure salvation. The mystical water is also believed to cure skin diseases, making Pushkar the Lourdes of the East.
Sightseeing of New Delhi : The capital city of India and locally called Dilli is the main arrival point for overseas tourists. A day tour takes you to Red Fort, Jama Masjid, Humayun's Tomb and Qutub Minar. More imporant places like Lotus Temple and Akshardham Temple can also be added along with a shopping trip to make your Delhi tour complete.
Visit to TAJ MAHAL : It is the epitome of Mughal art and regarded as one of the wonders of the world. An "elegy in marble" or some say an expression of a "dream" , Taj Mahal (meaning Crown Palace) is a Mausoleum of queen Mumtaz Mahal. It was built by her husband Shah Jahan, a Mughal emperor of India. . The stunning architectural beauty is beyond adequate description, particularly at dawn and sunset.
Housing
Accommodation in pre checked and approved home stay with and Indian family.
Students must show proof of medical coverage while overseas.