Framing And Ecological
Program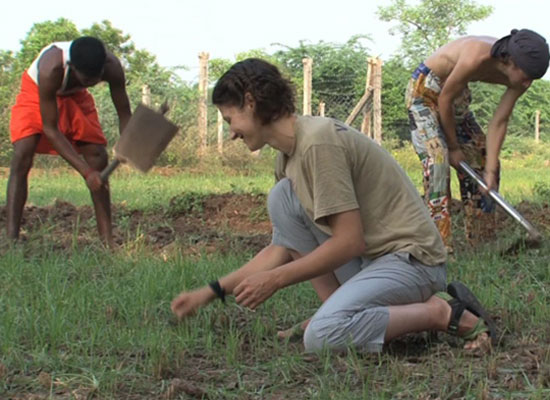 Overview
Explore the delicate balance between farming and ecological concerns in the vast agricultural expanses of northern India.
From the program base in the west and central India, students explore the region's diverse human and agricultural environments through seminars and field visits to farms and related units. Basic Hindi language study and a rural stay with a Tribal community complement classroom work and field research.
This program is designed to make awareness for various farming techniques used in India and the ecological impact of pollution and pesticides. During the tour we will take you to various organizations working in the field of agricultural yield enhancement and genetic engineering of seeds and plants. We also undertake field trip to various Non profit organizations that are working in developing ecological products that considerably bringing down the carbon footprint from the world.
A visit to a renowned Agricultural University authorized to provide instruction in Agriculture and Allied Sciences which include Horticulture, Home Science and Agri-Business Management. During the tour, students can also see other fields of agricultural learning, which may deem fit
Duration
18 nights and 19 Days- Customizable
Location/Destinations covered
Delhi - Jaipur – Bikaner - Sri Ganganagar -  Amritsar.
Academic highlights/Highlighted Topics
Pesticide evaluation
Seed genetics
Old and new farming techniques
Biological farms
Organic farms
Green house farms
Fruit orchards
Course panelist
Dr. Sugan Singh is a retired Professor and Dean of Rajasthan Agriculture College in Jaipur Rajasthan and has worked extensively in the field of Agriculture sciences; currently he is working on deputation with Indian government and leading many research projects in this field
Enhance your experience
Course extensions on individual basis are available for this program
Excursions
What a country INDIA is! Its palaces, vibrant museums, mountains, wild life, deserts, restaurants, etc - it is a country that wears its cultural sophistication on its sleeve. We have an experience of introducing international students to the best of INDIA.
By letting our experts handle all the logistics, you can be sure that you'll have the time and confidence to take advantage of all its pleasures!
Sightseeing of the Pink City – Jaipur : Jaipur, the City of Victory, a land of natural beauty and great history is chaotic and congested, but still has a habit of tickling travellers pink. Stunning hilltop forts, glorious palaces and brilliant bargain-filled bazaars, are the favourite spots for tourists. Many old and neglected palaces and forts in Jaipur have been converted into heritage hotels.
Day trip to Golden temple of Amritsar : The Golden Temple situated in, one of Punjab´s principal cities Amritsar, is not only a central religious place of the Sikhs, but also a symbol of human brotherhood and equality. Everybody, irrespective of cast, creed or race can seek spiritual solace and religious fulfilment without any hindrance.
Visit to the Wagah border to see the flag hoisting and change of guard ceremony : The 'lowering of the flags' or 'the Beating Retreat' ceremony is a daily military practice that the security forces of India and Pakistan have jointly followed since 1959. This ceremony takes place every evening before sunset at the Wagah border (32 km from Amritsar), which is a part of the Grand Trunk Road, the only road link between these two countries.
A day sightseeing in desert town of Bikaner : If ever beauty has bloomed in a desert, it has been at Bikaner, lying in the north of the desert State, dotted with scores of sand dunes. Bikaner retains the medieval grandeur that permeates the city's lifestyle.  The imposing palaces, beautiful and richly sculptured temples display some of the finest creations of Rajput civilization. It's lust or affection for "desert" that tickles every heart to visit Bikaner.
Also visit one of the largest Camel Research and Breeding farms in this camel country, with distinguished and best riding camels in the world.
Sightseeing of New Delhi : The capital city of India and locally called Dilli is the main arrival point for overseas tourists. A day tour takes you to Red Fort, Jama Masjid, Humayun's Tomb and Qutub Minar. More imporant places like Lotus Temple and Akshardham Temple can also be added along with a shopping trip to make your Delhi tour complete.
Housing
Accommodation in pre checked and approved guest houses, home stays and 4 star hotels.
Students must show proof of medical coverage while overseas