Women Empowerment
Program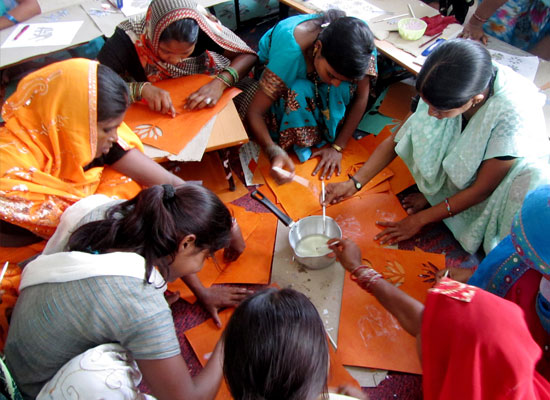 Overview
People interested in the cause of upliftment of the women and making a difference in their lives would find this project fulfilling and rewarding.
Volunteers must be 17 years or older at the beginning of the program. They need to have an open mind and flexible attitude for working in a new and different environment. The person should bring energy and enthusiasm to make a difference.
In this program students work for the empowerment of marginalized women through education, advocacy of rights, and the creation of vocational opportunities essential to the sustained growth of the region. They work along with women from poor family background having poor or very little education level, in the state capital city of Jaipur.
As a volunteer you will be working with girls and women in the age group of 16-40 years. As a part of project, students provide counselling and monitoring and help women by teaching English, helping in different vocational courses such as beautician work, stitching and handicrafts work for them so that they can improve their language and skills before beginning their career and become financially independent.
The volunteer will also be providing them with the basic skills needed to improve the quality of their communication skills and encourage them how to apply for jobs. In this way these young girls will gain confidence and will later be confident women. Your help will not only change the lives of the girls but it will also considerably change your life as well.
Volunteers can provide guidance for nutritional and wholesome diet; assist the local staff in organizing adult literacy classes for women. One can also help and give computer training to the women in the organizations.
Make a big difference in their lives by sharing love and warmth with these women.
As part of your tour, you will receive basic language sessions for your use prior to your arrival on-site
Program Aim
Volunteers and donors work to provide support for women's empowerment programs that:
Help a Women's Empowerment Project that provides training for members, holds meetings, and provides vocational support.
Educate the public about women's issues to ensure that local women receive equal opportunities and compensation, while promoting gender sensitivity.
Assist an organization's Community Action for Safe Motherhood Program. This program educates women on primary health issues to combat common health problems. They also work to train traditional birth attendants.
Assist projects that focus on mobilizing local women to protect natural resources by controlling farmland development, composting, and preserving water.
Establish workshops that help provide skills training to increase levels of employment and reduce migration; and empower women to create their own income-generating activities.
Volunteer work activities
Teach different vocational courses such as beautician work, stitching and handicrafts work.
Teach and enhance their knowledge of the English language.
Improve their English listening, reading, writing and speaking skills
Teach them about computers and how to operate them.
Teach about the world, cultures, food and on-going stuff around the world (general knowledge)
Teach them about the basic personal hygiene.
You may enhance their skill and confidence with other fun creative ideas.
Duration
4 – 5 weeks – Customizable
Course extension on individual basis are available for this program.
Project Location
Delhi - Jaipur.
The project placements are located in the cities of Delhi and Jaipur. They are among  large cities and also the most popular tourist destinations of India primarily due to their captivating ancient monuments, rich history, magnificent museums, some of the best places to shop in the country and some of the best places to eat in the subcontinent.
Course panellist
Dr. Ira Dash Rajguru, a Doctorate in Social Sciences with specialization in HR and Women Issues, has been working with HR dept. of Unicorp and subsequently worked as a HR consultant to Ingramico, Icons & V5 Global. Interested in writing, she has authored the book "Women and Education in Rajasthan."
Pre-requisite Subjects
Community Development
Health And Society
International Development And Social Change
Asian Studies
International Relations

Program requirements
Duration - The minimum required time for Women Empowerment program is 4 weeks.
Age limit - Minimum required age is 17 and maximum age depends of participant's health.
Gender - This program allows female volunteers only.
Eligibility - You do not need specific skills and past experience to be a volunteer with us.
Visa type - You need to obtain tourist visa only.
Excursions
During the free time volunteers can visit the local markets, visit different restaurants and try out the different Indian cuisines. There is a lot to explore and see in India.
Sightseeing of the Pink City – Jaipur : Jaipur, the City of Victory, a land of natural beauty and great history is chaotic and congested, but still has a habit of tickling travellers pink. Stunning hilltop forts, glorious palaces and brilliant bargain-filled bazaars, are the favourite spots for tourists. Many old and neglected palaces and forts in Jaipur have been converted into heritage hotels.
Day trip to Pushkar :  A sacred town for the Hindus, boasting of the one and only temple dedicated to Brahma. It is a sleepy; lakeside settlement with Ghats, a dip in whose waters and worship in temple ensure salvation. The mystical water is also believed to cure skin diseases, making Pushkar the Lourdes of the East.
Sightseeing of New Delhi : The capital city of India and locally called Dilli is the main arrival point for overseas tourists. A day tour takes you to Red Fort, Jama Masjid, Humayun's Tomb and Qutub Minar. More imporant places like Lotus Temple and Akshardham Temple can also be added along with a shopping trip to make your Delhi tour complete.
Visit to TAJ MAHAL : It is the epitome of Mughal art and regarded as one of the wonders of the world. An "elegy in marble" or some say an expression of a "dream" , Taj Mahal (meaning Crown Palace) is a Mausoleum of queen Mumtaz Mahal. It was built by her husband Shah Jahan, a Mughal emperor of India. . The stunning architectural beauty is beyond adequate description, particularly at dawn and sunset.
Housing
Accommodation in pre checked and approved guest houses, home stays and 4 star hotels. The accommodation would be shared with other volunteers.
The accommodations are located in close proximity to the best tourist locations and markets in the city.
Students must show proof of medical coverage while overseas.